SKATING RING AT THE SPORTS GROUNDS OF ĒRGĻI SECONDARY SCHOOL
Oškalna street 6, Ērgļi, Ērgļu parish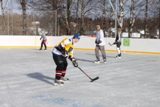 Offers:
Skating on weekday afternoons and at weekends. Own skating inventory required.
Working hours:
Weekdays
3.00 PM – 6.00 PM – Individual skating
6.00 PM – 8.00 PM – Hockey

Saturdays & sundays
12.00 AM – 2.00 PM – Individual skating
2.00 PM – 6.00 PM – Hockey

JUMURDAS ESTATE
Jumurdas parish, phone No. (+371) 64871791, mobile phone No. (+371) 29282601 ; web: www.hoteljumurda.lv ; e-mail: info@jumurda.lv
Offers:
- sports grounds for children, boat and catamaran rent, horse rides with a relay or sledge.

"UPES SAUSĪTES"
Sausnējas parish; mobile phone No. (+371) 29423342; (+371) 29204229; web: www.ezerbirzs.lv ; e-mail: aivars@flera.lv.
Offers:
- walks around the natural paths in the vicinity, playground for kids, sports grounds and accessories, bicycle rides, boating in a pond, leisure summerhouse.

Z/s "RAMUĻĒNI"
Ērgļu parsh; mobile phone No. (+371) 22451041, e-mail: elknusi@inbox.lv
Offers:
- horse rides, rides with a relay, boat rent.

"BRAKU TAKAS" AMUSEMENT PARK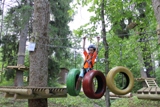 Ērgļu parish, mobile phone No. (+371) 29429125; (+371) 20496986; web: www.brakutakas.lv ; e-mail: gibuli@inbox.lv
Offers:
- cable tracks, guided tours around Ērgļi, teambuilding events, boating down the Ogre river, bicycle routes, distance ski tracks, ski hikes. Nightly "Glowworm rides" on the cable tracks for groups of people are available by a preliminary appointment.

"VIESAKU" SHOOTING RANGE
Jumurdas parish, mobile phone No. (+371) 29275129; e-mail: gunta@viesakas.lv ; info@viesakas.lv
Offers:
- a variety of classical shooting sports – round targets, "running boars". The shooting range is most suitable for large-scale and Compac sporting. The shooting range is a regular host of Latvian and international shooting competitions. Training grounds are also available at the shooting range. Shooting training camps, competitions and entertainment activities are also organized.

OFFROADER TRIPS (Jeep Safari):
Within the territory of Ērgļu district and beyond, reservations made through hotel "Ērgļi", phone No. (+371)64871604; mobile phone No. (+371) 29482053 or (+371) 29424541
Offers: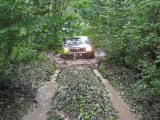 "Ogre valley" – a 1-hour long trip along the narrow, winding rural roads of the Ogre valley, rich in spectacular views. Price per car (up to 4 persons) – Ls 30.
"The Gaiziņkalns mountain" – a 2-hours ride through the protected landscape countryside of Vestiena. Beautiful sceneries, rural and forest roads, climbing the tallest mountain in Latvia (optional). Price per car (up to 4 persons) – Ls 55.
"Wild nature" – a 2- or 3-hours long trip around the scarcely populated vicinity of Ērgļi. Amazing landscapes, wild nature, great oak trees, rural and forest roads, which sometimes may be hardly passable. We suggest that you visit the "Devil's ditch" or take a walk down the "Nature path of Vedze" (optional). Both destinations will require you to walk about a kilometer – proper clothes and footwear are required. Price per car (up to 4 persons) – Ls 50 (2 hours) or Ls 75 (3 hours).

All the prices are specified without VAT. Other routes are also available on request (former military station of the Soviet army, museum "Bet tā bija!" ("But it was like that!"), etc.). On separate occasions, one vehicle may take up to 6 persons.